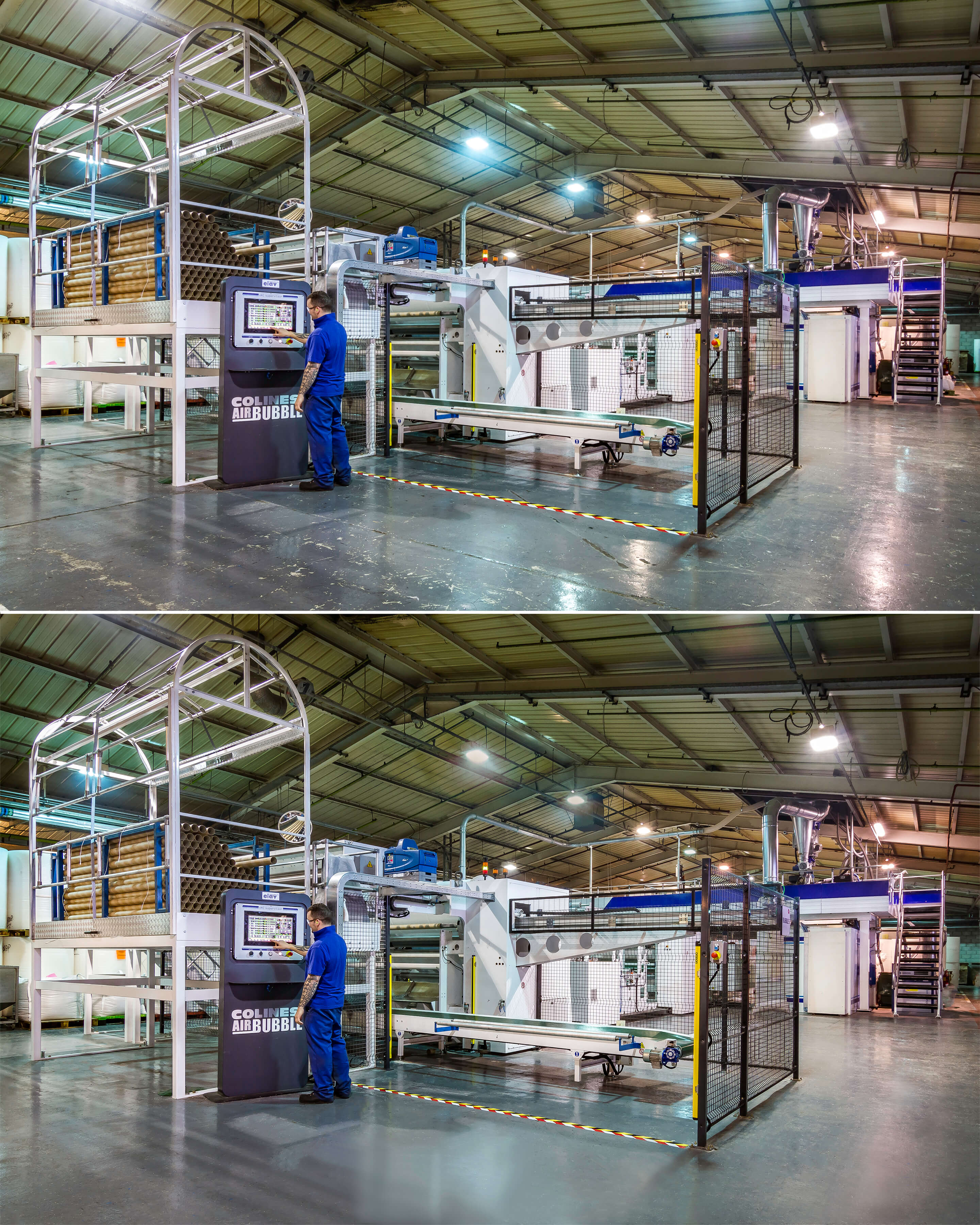 Industrial photography for new machinery at Jiffy Packaging to create images for an urgent press release.
Despite efforts to clean up the area prior to the photo shoot, the nature of the processes involved in making bubble wrap created a large amount of dust and debris across the area.
Our post production processes enabled the area to be "cleaned up" with the use of image editing software. We were also able to tone down the blue cast and flare from the overhead lighting to make a more pleasing final image.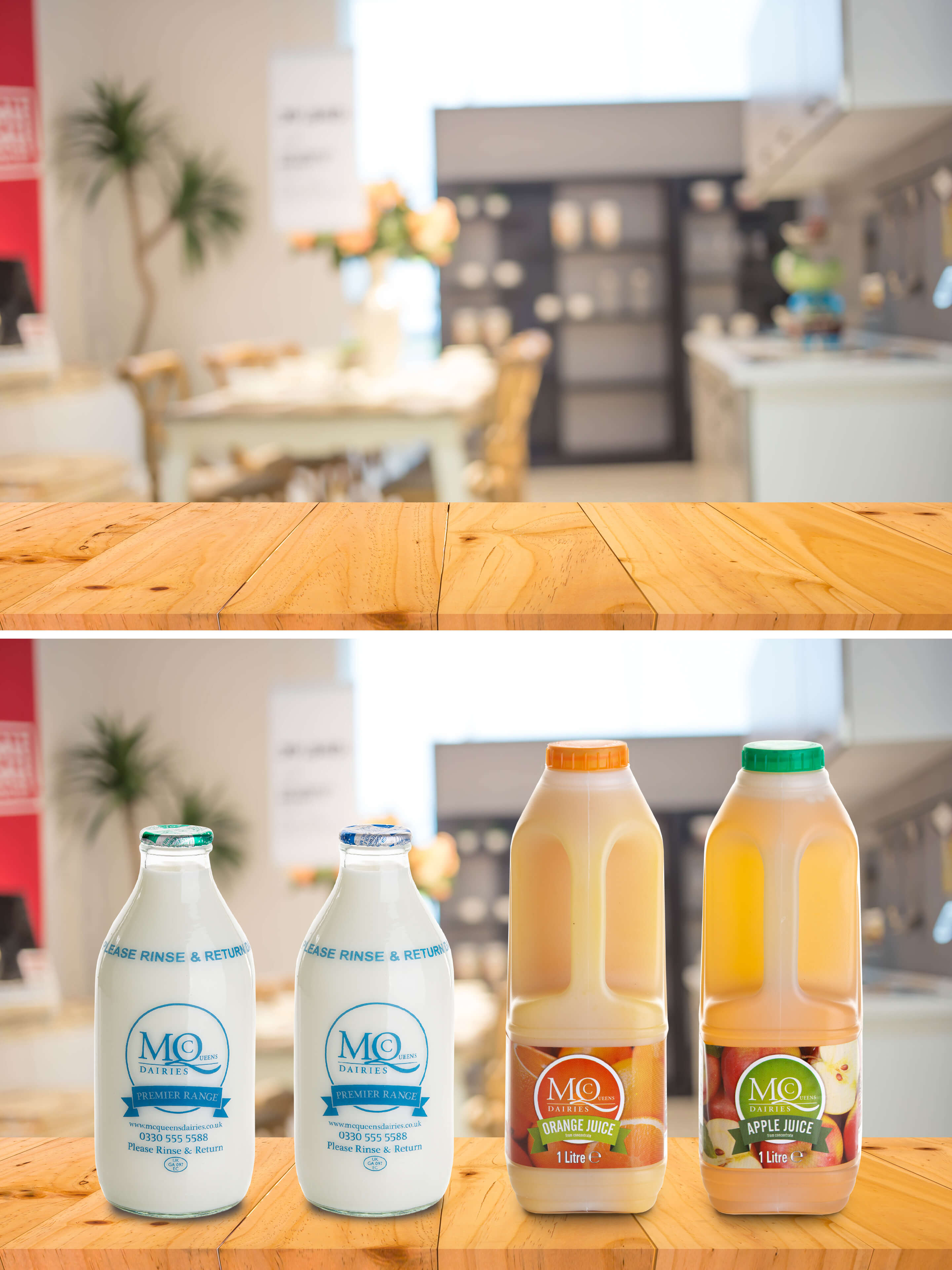 McQueen Dairies Fruit Juice and Milk Bottles
The brief was to photograph 4 new bottled products, 2 milk and 2 fruit juice. Rather than have the added expense of a location shoot or large expensive studio setup, the background photograph was supplied and the bottles were photographed in our small product studio and edited onto it. Shadows along the bottom edge of each product were added to give a more realistic look.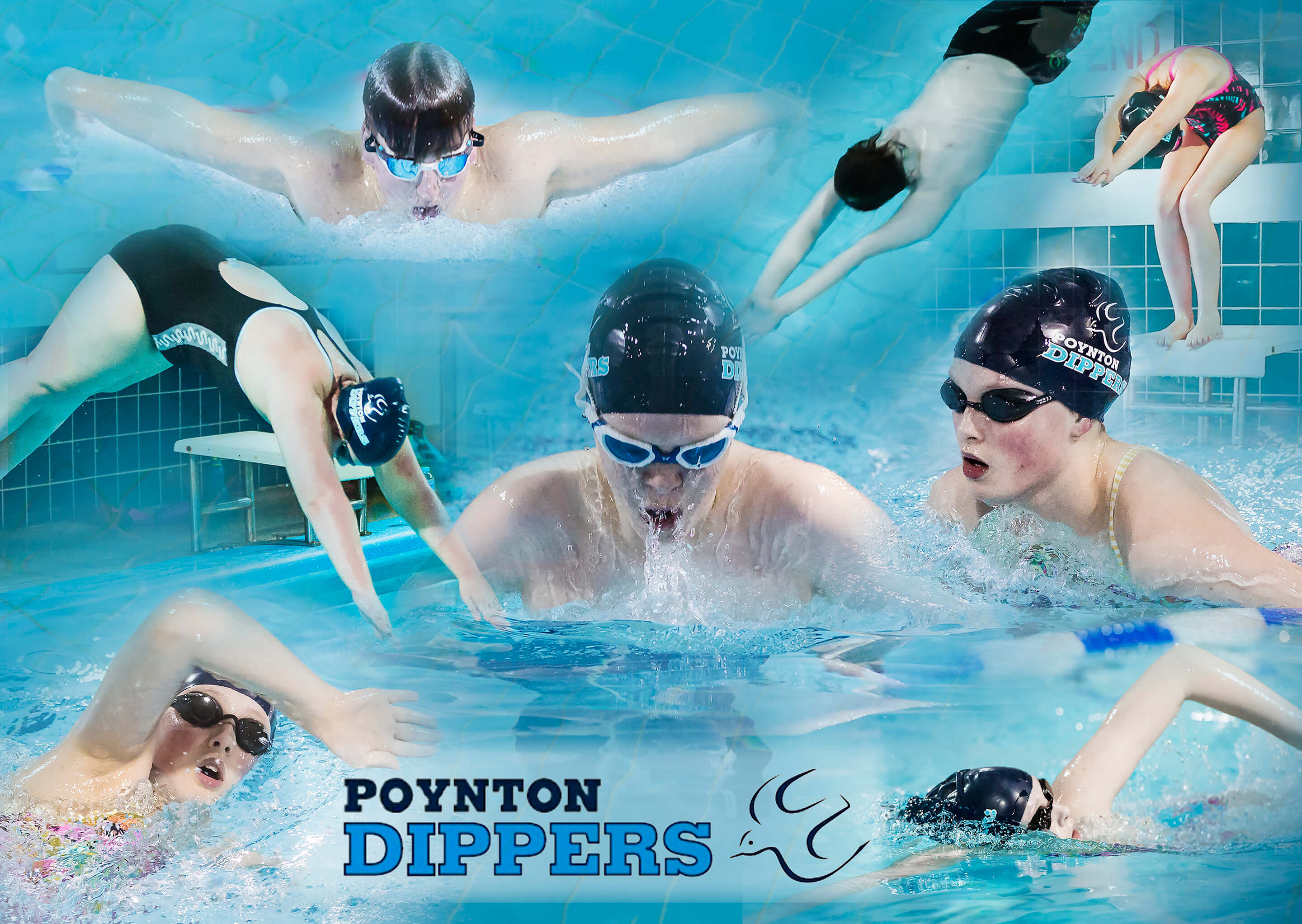 Poynton Dippers Swimming Club Poster
Having photographed a swimming gala for the local swimming club, they then wanted to produce a poster for use in the reception area of the pool where they train.
By using the high resolution images taken for the gala, we were able to merge several images together to create a contemporary collage depicting the swimmers in action along with the club logo.
Editing an image to suit your brand
With 27 years experience of working commercially with Photoshop, we can offer a very high standard of image editing using Adobe Photoshop and Lightroom to help create the exact image to suit your brand.
This service can be rolled out to other photographers, website builders, graphic designers and businesses who already have a library of images but would like to do something a little different with them.
What is image editing?

The meaning of image editing is the act of altering and enhancing an image. But that's oversimplifying a subject which is actually quite complex.
Other terms for image editing include:
Photo editing

Post-processing

Image/photo manipulation

Photoshopping

Image/photo enhancement
What are the different types of image editing?
Simple image editing techniques, included as standard with all of our photography:
Noise reduction: makes the image look smoother

White balance: corrects colour casts within images. eg: tungsten light causes a yellow cast

Contrast: higher contrast makes an image more defined, while lower contrast makes it flatter and duller

Exposure: this brightens or darkens the original image especially when the original image is taken using our RAW profile

Lens correction: addresses any issues with the camera lenses such as the distortion seen when using wide angle lenses

Colour adjustments: changes the colour of an item or element in the photograph

Resizing and cropping: changes aspect ratio or removes unwanted subject or irrelevant detail from a photograph
More complex, advanced techniques that we can provide as an extra service include:
Background removal:

deletes the background from the image, isolating the subject (this is often used for white background product photography)

Clipping paths:

extracts a subject or element from an image (again used in white or coloured background replacement)

Portrait corrections: removes unwanted blemishes, makes skin look smoother, enhances peoples appearance by making them look thinner and younger.

Head swaps: used in group photography to replace a face from one image to another

C

reate or adjust shadows

Photo stitching: when you seamlessly put two images together to make it look as though they were shot that way

Photo masking and

layers:

the process of hiding and revealing specified portions of an image
If you would like any further help or advice, then please don't hesitate to contact us via the form on the contact page